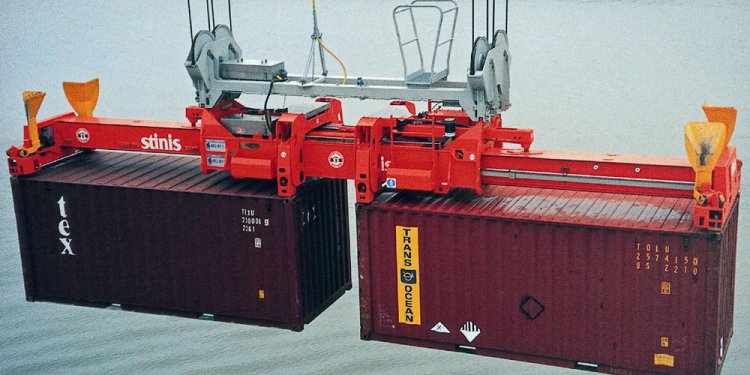 Cargo Handling Equipment
Containers are the most transported method of cargo form in the world as they are transported by all the three transportation systems available i.e. land, air and water. The aspect of cargo handling of the containers on ships become very critical as they are subjected to harsh weather and strong wind in the mid sea.
A research states that every year more than 10, 000 containers fall overboard and spill their cargo into the ocean; 50 % of this happens due to negligence in the cargo handling.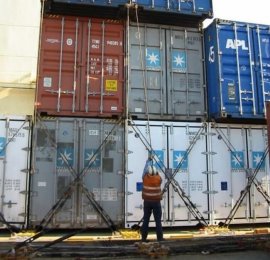 Different types of cargo handling equipments are used to secure containers to the ship and to other containers stacked on top of other. The details of these equipments are given in cargo securing manual (CSM) present onboard.
Some of the important container cargo handling equipments are:
Base Twistlock: As the name suggests, it is used on deck and is mounted on the socket provided on the deck. The shipping container is loaded over the base twist lock and it is to be installed as per the procedure in CSM. After loading ensure that the wire handle is in lock position.
Locked position.
To remove pull the wire all the way, tilt the twist lock backwards and lift the twist lock from the socket.
Semi Automatic Twistlock: This twistlock are used in between the containers i.e, when a container is loaded on top of other container to form a stack. A semi automatic twist lock is inserted in between them. They are not used for the position of midlocks.
Midlocks: They are used on deck between the 20 ft containers.
Semi Automatic Base Twistlock: They are also used on deck on the lowermost tier except for the position of midlocks.
Hanging staker: A hanging staker is equipment which holds for 20 ft containers on all the four sides.
Lashing Rods: Lashing rods are rods of different lengths to hold the containers from one end and are tied up to the deck surface from the other end.
Turnbuckle & Bottle screw: They are used in combination for tensioning the lashing of the container so that they won't get loose.
Spammer: A spanner or a tightening tool must be available for tightening the bottle screws and turnbuckles.
Emergency tool: It is a tool which is used when a twist lock cannot be unlocked by pulling the wire handle. It is used in such a way that the emergency tool is in a position that will keep the twist lock open and the container can be then lifted along with the tool.
Grease: It is an anti seize compound that should be applied to all the lashing equipment as required so that they are well maintained and in operational condition.
A brief list of equipments used for container handling on ports:
Port equipment includes straddle carriers for container transportation on berth
Tractors and trailers/semi-trailers for back up transportation and movement within a terminal area,
Stacker cranes and side loaders to assist in cargo handling.
The cargo handling equipment used for ship during cargo operations are gantry cranes on the pier.
Gantry cranes are especially used for container handling. These cranes are fitted with spreaders that can be adjusted for twenty foot, forty foot and forty-five foot containers. Some of them can also be adjusted for twin lift.
It should be noted that the lashing should not be over tightened as they are pre tensioned. Excessive tightening may lead to excessive loading on the containers and may damage them during rolling.
Hence lashing should be tightened with only the spanner with slight force. Also the lock nuts on the turnbuckle should be locked in position
See also
While choosing a company that offers auto transport services, it is important to learn everything concerning the insurance. There are some cases when fully insured transportation has a different meaning for you and your transporter. So if any damage occurs during your transport, you have to know how insurance affects your vehicle.
Share this article
Related Posts