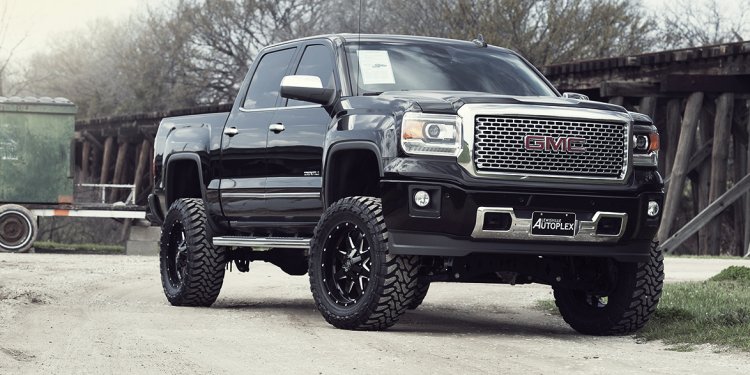 Lifted Trucks
"Go big or go home" is a popular saying and should be the mantra for those who prefer to ride high in their lifted trucks. Trucks have always been known as "work horses, " and were created to make work a lot easier for those who could afford them back in the day (think early 1900s). Now they're a massive statement for customizers and enthusiasts who like to have toys that can handle any terrain it rolls on.
Lifted trucks came about in the middle of the 20th century, as massive wheels and extended suspensions were created during both World Wars for military vehicles, which were later used on regular trucks. Since war trucks and tanks needed to traverse the craziest terrain around without trapping or bogging down, advancements in suspensions and larger tires were made. By the 1970s, many large auto names were now offering 4-wheel drive vehicles, which was just the beginning of lifted trucks.
From there, lifted trucks became a necessity for those living in areas that saw harsh winters in the North or lived in swamps and muddy terrain in the South. When regular vehicles couldn't traverse them, many started to modify their existing trucks to ride higher to endure the harsh environment. Because heavily modified pickup trucks were growing in popularity, the sports of truck pulling and mud bogging soon started to gain traction and many truck owners started to create massive monster trucks to compete in such events. One such ride – Bob Chandler's Bigfoot – gained national attention and was the first monster truck of its kind.
Because people wanted to copy the look (but not compete), many started to lift their rides with modified suspension to achieve higher ground clearances and to accommodate larger tires. Now lifted trucks are seen everywhere – on trials and on the roads, so they're no longer just off-road vehicles and double as daily drivers. Many simply like the look of a lifted truck even though they're never take it off-road. As far as height, it's a personal choice, with some opting for insane heights like 26"! But trucks aren't the only things many enthusiasts are jacking up to the sky since Jeeps have become increasingly popular since the 4-door JK model made its grand debut in 2007. It seems like lifted trucks will never go out of style and people keep pushing the limits to how high they can get their rides!
Share this article
Related Posts