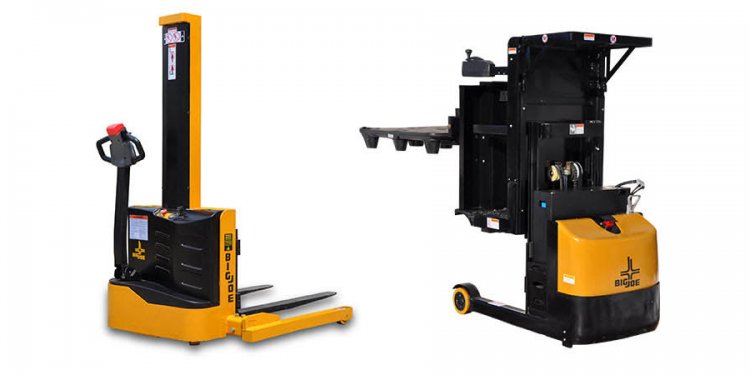 Trucks Pallet
Add versatility to your warehouse with Cat® Power Pallet Trucks.
If smooth and efficient horizontal transport is an important element of your warehouse handling operations, this range of Cat® power pallet trucks is for you.
Built around powerful, programmable AC motors, these trucks offer a range of models and options to suit almost any horizontal handling situation in your warehouse, from short shuttles to long distances.
The Cat range of power pallet trucks include pedestrian, platform, stand-on and sit-on models making them some of the most versatile available. Built with AC motors which give excellent traction and ramp performance, even when laden, they're virtually maintenance free and have relatively low energy consumption compared to traditional DC motors.
They offer major benefits to your warehousing operation. The 'pedestrian' and 'platform' trucks are controlled by cleverly designed tiller arms, with precise and intuitive controls that link the operator almost seamlessly to the pallet truck and pallet load. The stand-on/sit-on models incorporate control consoles for accurate handling within the ergonomic operator compartment that are also comfortable and easy to use. These systems give the trucks a smooth, controllable feel which improves the safety of the operator and of other staff in the vicinity, whilst also helping to prevent accidental damage to the forks, loads and racking.
As with other Cat forklifts, the pallet trucks can be set-up to match your application requirements through using the programmable electronic controller, while built-in diagnostics monitor functions to maximise uptime. Additionally, their regenerative braking helps to extend shift life, by reducing brake wear and therefore reducing maintenance.
Externally, the smooth contours are not only stylish but functional and hard wearing, allowing easy access to all components and minimising essential maintenance time. With cold storage modifications available on most trucks, this Cat power pallet range is capable of meeting the challenges of a wide range of day-to-day loading bay and shuttle applications.
The NPF25N2 trucks are designed for heavy duty handling and feature an ergonomically positioned steering wheel to increase driver comfort.
The NPP16-20N2 power pallet trucks are ideal for loading and unloading.
The NPv20N2 platform truck is perfect for transport of loads over medium/long distances.
The NPR20N stand-on pallet truck offers a short turning circle and optimal protection of the driver.
The NPS20N model is a sit-on truck used for long distances and offering optimal ergonomics for the driver's comfort.
Share this article
Related Posts