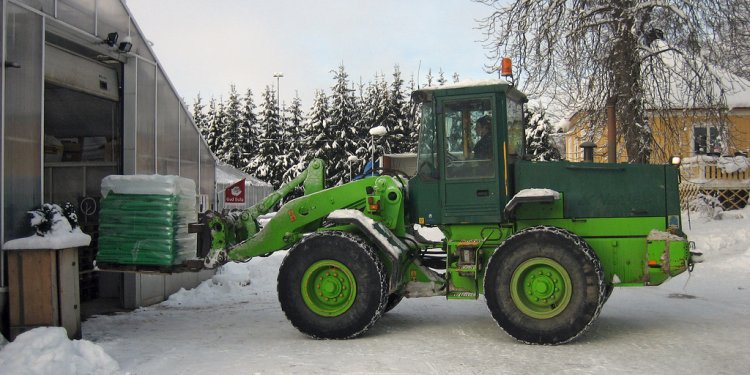 Walkie Stacker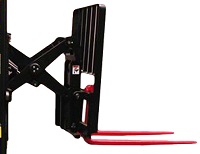 A walkie stacker or pedestrian walk-behind stacker is a walk behind pallet truck with a mast for lifting pallets to heights. There are many different types of walkie stackers that are suited to different applications. In this blog post we will outline each of them and provide some walkie stacker basic application guidelines.
Walkie Stackers can be either powered or manual. They are most commonly used for transporting & lifting pallets where a forklift is not necessary; such as in store rooms, small warehouses and specialised warehousing sections or as a backup for more expensive forklifts.
These machines are perfect for small capacity items transported around a warehouse or any premises for less than 5 hours a day. They are more suited to indoor use due to their small wheels and it is recommended that they are only used on flat concrete floors, but they can be ordered from the factory with specialised requirements such as larger wheels.
Types of Walkie Stackers: Application Guidelines
There are a number of types of walkie stackers each suited to different applications. Below is a basic explanation of each of the different types.
The key distinguishing features of each type of walkie stacker is how they distribute the load: either with front legs, straddle legs or counter-balance weight.
1. Walkie Straddle Stacker
Walkie straddle stackers are the most common type of walkie stacker in Australia. They use straddle legs for distributing load weight. The legs allow them to straddle a pallet, so that the stacker can drive up closer to a pallet, without requiring as much space.
They are most commonly used for low to mid-level selective racking applications; such as store rooms, small warehouses or customer zone racking areas. The straddle legs also allow closer pallet stacking when floor stacking is employed. Racking must be configured to allow the straddled legs to move around or underneath the racking bottom beam supports. Lifting heights start at 2, 642 mm and go up to 4, 826mm.
2. Walkie Reach Stacker
Walkie reach stackers are the next most common model in Australia.They are very similar in design to the Straddle Stacker but they are fitted with a pantographic scissor mast. This means the mast is able to move loads forward away from the body of the stacker.
They are most commonly used in applications such as loading trailers, utility vehicles and trucks. They can also be used for general mid-level racking applications similar to straddle stackers. Lifting heights start at 2, 565mm and go up to 4, 547mm.
3. Ride on Walkie Stacker
Ride on walkie stackers are very similar in design to standard walkie stackers but they feature a platform (or Bob) and specialised controls to allow for the operator to ride on the walkie stacker. One key disadvantage of ride on walkie stackers is that the driver requires a forklift licence to operate them, in comparison to walk behind units that don't require any licence for operation.
Refer to 5. Standard walkie stackers for more information on this type.
4. Counter-Balance Walkie Stacker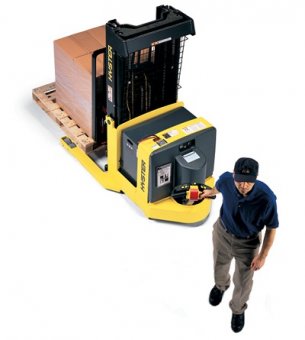 Counter-balance walkie stackers use counter-balance weight to distribute loads; this allows them to operate in narrower aisles than the more commonly used straddle stacker because they don't have straddling legs outside of the body of the unit.
They are also able to lift standard pallets, unlike the standard walkie stackers (with front legs). Counter-balance walkie stackers have the longest total length; due to the counter-balance weight, which results in a larger required turning circle when compared to other types of stackers.
The counter-balance walkie stacker features the highest lifting mast of the different type of walkie stackers starting at 2, 642mm and going up to 5, 817 depending on capacity.
5. Standard Walkie Stacker
Standard Walkie Stackers use legs that sit under the forks to distribute load weight. This also allows them to lift and handle two pallets at one time; making them ideal for applications that require both transportation and stacking of pallets. They also offer the smallest turning circle of the different types of walkie stackers.
One key disadvantage they have is that because the legs sit under the forks, they are only able to lift bottomless pallets or similar bottomless containers.
They are designed for med-level racking applications with lifting heights from 1, 845mm-4, 255mm.
Manual Powered Walkie Stackers
Manual powered walkie stackers are not ideal for handling pallets in racking as they have very limited lifting heights and are very slow to operate. Only recommended for general lifting with very low volume.
Hyster Walkie Stacker Specification List:
To help you with the buying process here's a list of the Hyster electric walkie stacker range with some key specs:
Key advantages of a Walkie Stacker:
Operators do not require a forklift licence to operate a walkie stacker (unless they are ride on) however they must be aware of all the controls and safety procedures along with gaining permission from their company to operate the equipment.
Low upfront cost when compared to other materials handling equipment.
Minimum running costs. Battery electric equipment has a lower ongoing running cost compare to Diesel, LPG and CNG.
Emit no exhaust pollution or fumes and no noise making them ideal for indoors materials handling. They also have lower energy requirements and therefore produce less carbon emissions.
Highly manoeuvrable and therefore able to work in compact spaces along with helping to increase warehouse capacity.
Better operator visibility; due to their smaller size operators have better visibility when handling loads.
Walkie reach stackers are often ideal when handling pallets in specialised warehousing sections (such as customer allocated storage areas) and store rooms. They are also perfect for adding extra handling capacity for order fulfilment without investing in an entire new forklift and for providing backup.
If you're interested in purchasing a walkie stacker; call us today on 1300 880 335 or Contact Us online. One of our forklift specialists will help you purchase the right equipment for the right application. You can view the full list of Hyster Pallet trucks here.
thinking out of the box
thinking outside the box
thinking outside the box synonym
thinking outside the cage
thinking outside the box examples
thinking outside of the box is considered
thinking outside shed
thinking outside the box meaning
thinking outside the box quotes
thinking over feeling
thinking over synonym
thinking over feeling meaning
thinking over dana glover
thinking over meaning
thinking over and over again
thinking over feeling personality
thinking over and over again synonym
thinking past tense
thinking past the sale
thinking past textbook
thinking fast and slow audiobook
thinking fast and slow summary pdf
thinking pro rich
thinking pros and cons
thinking pro
pro thinking definition
thinking time pro
design thinking pro con
critical thinking pro
critical thinking pro con
since thinking
disruptive thinking since 1826
ucl disruptive thinking since 1826
have been thinking since
i were thinking or i was thinking
thinking through the past
thinking through synonym
thinking through communication
thinking through the past volume 1
thinking through sources
thinking through the past volume 2
thinking through sources for ways of the world
thinking through grammar
thinking thru
thru thinking meaning
thinking things thru
still thinking meaning
thinking of you till it hurts
john till thinking place
thinking of you till it hurts lyrics
thinking about something till it happens
wishful thinking till svenska
thinking of you till svenska
what is thinking about thinking called
thinking to myself
thinking to yourself
thinking to much quotes
thinking to hard
thinking to myself synonym
thinking to do
thinking towards the future
thinking towards
thinking towards life
maternal thinking towards a politics of peace
positive thinking towards life
creative thinking towards success
wishful thinking towards
thinking with literature towards a cognitive criticism
thinking under pressure
thinking under stress
thinking under the influence human communication
thinking under the influence example
thinking under pressure synonym
thinking under fire
thinking under fire bion
thinking of you underneath the mexican moon
thinking until head hurts
thinking about something until it happens
thinking of you until it hurts
does thinking make your head hurt
why does my head hurt when thinking
can you think so much your head hurts
when your head hurts is it your brain
thinking up a storm
thinking up math
thinking up and leading up
thinking up meaning
thinking up a hurricane
thinking versus feeling
thinking versus critical thinking
thinking vs thought
thinking vs doing
design thinking via zoom
critical thinking via the abstraction ladder
thinking with mathematical models answers
Share this article
Related Posts