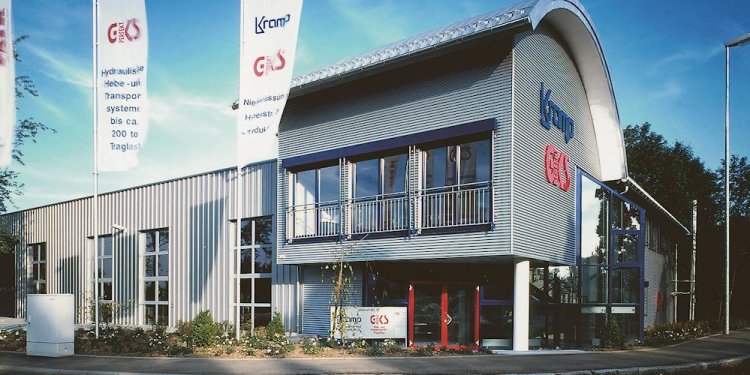 Lifting and Moving equipment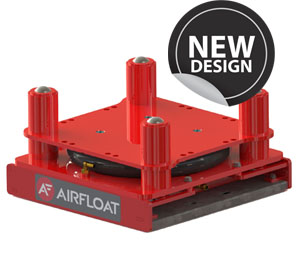 Lower costs and enhance safety by meeting load movement challenges head-on with easily integrated Lift Glide Air Skids.
Break free from the limitations of your dollies and carts without a significant investment with Airfloat Lift Glide Air Skids.
Enhance Existing Platforms with Air Bearing Technology
Break free from the limitations of your dollies and carts without a significant capital investment. Airfloat's completely redesigned Lift Glide Air Skids can easily be retrofitted to existing wheeled units or designed into new equipment, allowing you to utilize existing equipment to move loads over long distances.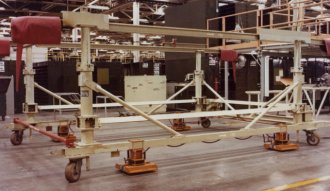 Then, when greater maneuverability is needed or the load weight becomes too heavy to push, the Lift Glide Air Skids can be engaged. See Specifications.
Integrate Air Skids with Existing Equipment
Supported by four air casters that float on a cushion of plant-supplied air, these air skids lift the dolly frame completely off the floor for easy positioning, movement and alignment. This retractable air bearing solution is:
Configurable – Easily attach to existing wheeled dollies or fixtures. Simply bolt them on and connect the air hoses.
Simple – Turn on the air, and the Lift Glides extend down to lift the wheels off the floor. Now the dolly or fixture can be easily moved in any horizontal direction.
10 X More Powerful – Move 1, 000 lbs. with only 1 lb. of force. That's 10 X more powerful than wheels or rollers.
Flexible – Keep the full advantages of wheeled movement for towing long distances or for moving unloaded.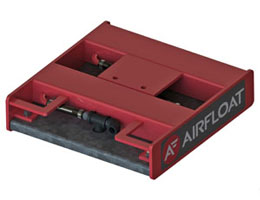 Contact Airfloat engineers today to learn how our Lift Glide Air Skids can integrate into your processes for improved safety and efficiency.
Steel Air Skid
Airfloat air skids allow for the safe movement of your materials. Air skids, placed under a load for movement, can be used to move almost anything, including sensitive, high precision machinery. An optional pendant control provides "Dead Man" control over the air skid system. Capacities are dependent upon air bearing sizes and quantity.
U-Platform Air Pallet
This low-profile, general purpose air platform is typically used for manual movement of container and pallet-sized loads at workstations or for omnidirectional positioning of loads for machine loading. Suitable for loads up to 12, 000 pounds, the U-Platform is equipped with four air casters connected by internal pneumatic plumbing to an on/off valve.
Learn how air caster technology can work for you. CONTACT US Must-Read White Paper: 10 Most Common Mistakes Made When Purchasing Automation Equipment
large plant pots outdoor
communication meme
coworking space ec1
how to start an affiliate marketing business
fox international
worldwide covid vacations
the arts society
how do i set up my own business
what is b2b business
marks and spencer christmas food
solar mini worldwide pod
canada international travel
coworking space for creatives
how can i start an online business
communication and interpersonal skills
how many days to christmas
stylish dp for girls
what is a not for profit business
Share this article
Related Posts