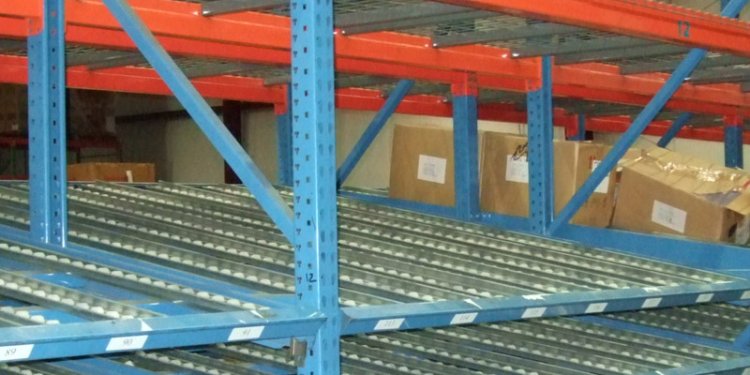 Pallet racking Minneapolis
Looking for quality pallet racking without the sticker shock? Want to store more for less money? You're in the right place. With our based just north of Minneapolis, MN our two warehouses are fully stocked with selective pallet racking. One of these two warehouses is dedicated solely to our inventory. Our used pallet racking is hand inspected, stored neatly and organized in our north building. We welcome you to stop by and take a tour of our pallet rack inventory before purchasing.
Most of our used inventory consists of teardrop pallet rack, but we also carry other types of racking, including discontinued and hard to find brands. Because our product is already in stock, all orders are ready for shipment in 48 hours or less. Give us a call or send in a form to get a quote on used pallet rack today!
"I need some pallet racks at an affordable price and that's exactly what I got! and in no time at all! was an easy shopping experience with no trouble!! highly recommend" – Lindsay J
Pallet Racking Used
We ship used pallet rack by the truckload across the United States. In fact, there's warehouse project too big or too small for the Pallet Rack Now team. Layout and design experts are available at our parent company AK Material Handling that can complete warehouse projects in a timely manner. This is done by utilizing our in stock inventory while providing many storage options through detailed drawings. Furthermore, we can offer pictures of the used pallet rack products on our quotes and even better iPhone videos are available upon request.
Freight Discounts Nationwide
Another advantage of working with Pallet Rack Now is we offer Freight Discounts. Our major logistics company offers freight discounts across the nation helping PRN provide very competitive delivered pricing across the nation. Our used pallet racking inventory changes daily so please call 888-578-1578 or use our Used Pallet Rack Quote Request Form for the most up to date inventory and pricing!
Used Pallet Rack Installation Services:
We offer nationwide installation on all types of warehouse storage systems including engineered systems such as push back and pallet flow. You can visit our Pallet Rack Installation web page for more information.
Also, we welcome all of our customers to come in and take a walk through our warehouses. We enjoy when our customers can come see the products and inspect the quality for themselves. You can even take a guided tour on our custom golf cart! Our trained used pallet rack experts can help you find the right rack system for your warehouse application. One of the most common misconceptions with pallet rack is that "one size or style fits all". But, this is not true with pallet racking so we will ensure that you find the correct size, style and capacity for your storage application. Often times customers are left in a pinch because they purchase used racking at a low price, but soon learn that the rack system they purchased is no longer available.
Styles of Used Pallet Rack:
USP Excel Storage Products, Speedrack, Spacerak, Interlake New & Old Style, Unarco, Kingway, Prest, Prest Webb Style, Sturdibilt, T-Bolt, Paltier, Steel King, Ridg-u-rak, W.C. Cardinal, HIline, Husky, Mirak and more.
Questions About Used Pallet Racks
Are you in a seismic zone?
Are you aware of the local regulations and permits?
Does the distributor own the product being quoted?
Has the racking been altered or refurbished?
Check out some of our specials…
For Factory Closeout Specials, Call 888-578-1578.
See also:
Share this article
Related Posts