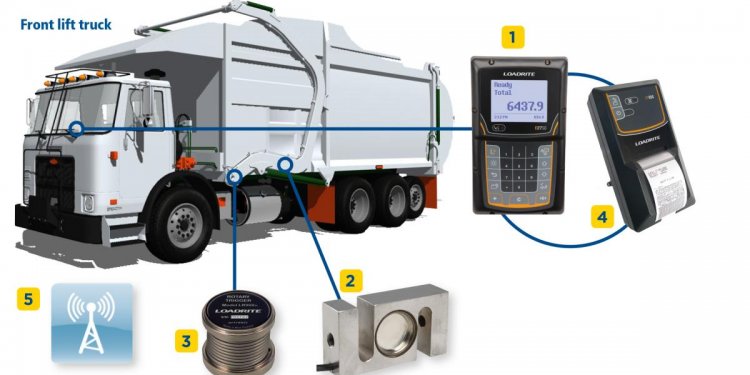 Front Lift Trucks
Leveling kits can consist of a variety of components. These steel spacers from ReadyLift fit on top of the coil-spring strut assembly to raise the front just enough to keep it level with the rear of the vehicle.
Leveling kits are extremely popular and can add 1 to 3 inches of ride height to most pickups using a front coil spring or coil-over strut suspension system. The term is derived from the fact that most pickups are taller in the rear than in the front, and raising the front suspension allows the truck to sit level.
Depending on the vehicle's make and model, leveling kits can use a variety of methods to lift the vehicle. These include polyurethane coil spring spacers that fit between the coil spring and the inside of the spring perch. Some use aluminum spacers or strut extensions that sit on top of the coil-over strut unit. Others use blocks and U-bolts that will raise the ride height on leaf-spring vehicles.
Leveling kits cost as little as $30 for simple polyurethane coil spacer kits to $500 or more for kits that include shocks, anti-sway bar end links and other components needed to keep the suspension geometry in its original location.
Some leveling kits use a simple coil spring spacer that fits on top of the spring within the coil-spring strut. Shown here is a standard spacer (right) compared with a leveling kit spacer (left).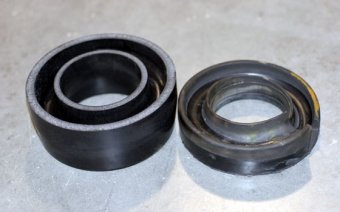 For the low cost, leveling kits work great for adding tires that are 1 to 2 inches taller than your truck's original tires. They are also easy to install for the experienced home mechanic, but some kits may require a spring compressor tool. The tool is necessary to remove the coil spring preload on models using a factory coil-over strut assembly. If you don't have access to this tool, you should have a qualified mechanic or truck specialty shop do the installation.
The advantage of a leveling kit is that it doesn't affect the ride of the vehicle or cause any warranty issues. If your truck or SUV is on a lease program, the leveling kit can be easily removed and restored to stock. In addition, there are leveling kits for just about every make and model pickup available (front-wheel and four-wheel drive), making these kits one of the most popular methods to lift your vehicle.
Body-Lifts
Body-lifts are another popular and inexpensive way to raise a pickup truck. Shown here is a Performance Accessories body-lift providing 3 inches of extra ride height on an F-150.
Before trucks and 4x4s had independent suspension systems and integrated coil-over struts, body-lifts were a popular way to add as much as 3 inches of ride height. The advantage of a body-lift is that it doesn't affect the vehicle's suspension and provides enough ride height to fit tires that are 2 or 3 inches taller than the original tires (typically a 32- to 33-inch tire).
Body-lifts are popular because they are inexpensive, ranging from $110 to $600. Depending on the truck's make and model, they can provide more ride height than leveling kits alone.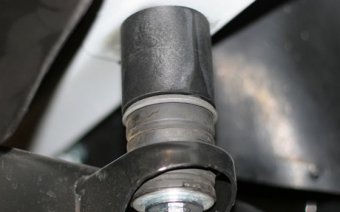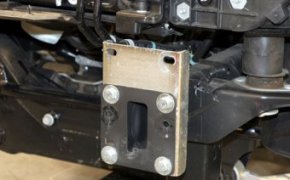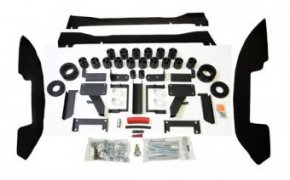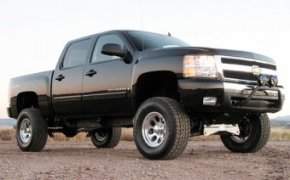 Share this article
Related Posts