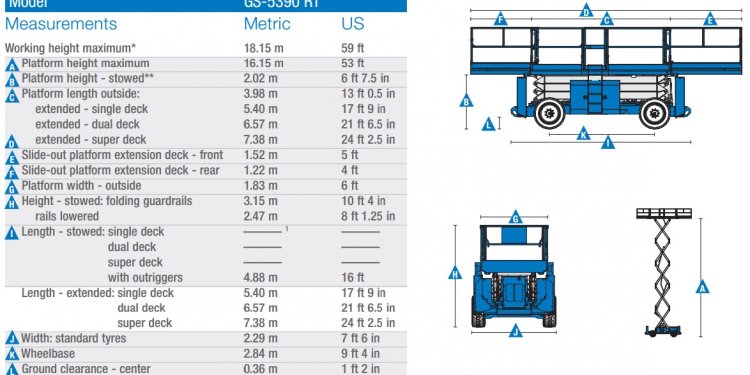 Scissor Lift weight
Allowing for greater weight lifting capacities than other aerial equipment, scissor lifts are a strong, sturdy, reliable way to access the vertical heights needed to complete your job. Scissor lifts come in either battery or internally combusted engines. Scissor lifts are capable of being operated with a single worker and have movement range of up, down, forward, backward, and turning. Narrow lifts are light weight and slender enough to fit through doorways, allowing you to work closely to your project.
Typical models include: Skyjack SJIII 3226, Genie GS-2632
A specific make and model cannot be guaranteed, but we will do our best to fulfill your needs based on availability in your area.
Specs for Skyjack SJIII 3226
Operating weight: 3510 lbs
Platform size: 6 ft 11 in x 2 ft 4 in
Platform height: 26 ft
Stowed height: 6 ft 6 in
Gradeability: 30%
Specs for Genie GS-2632
Operating weight: 4414 lbs
Platform size: 7 ft 5 in x 2 ft 6.9 in
Platform height: 26 ft
Stowed height: 7 ft 4.8 in
Specs for GS-2632
Max Platform Height: 312 Inches
Platform Length: 89 Inches
Platform Width: 31 Inches
Stowed Height: 88 Inches
Operating Weight: 4, 414 Pounds
Specs for 2630ES
Operating Weight: 4, 751 Pounds
Specs for 2632ES
Operating Weight: 4, 635 Pounds
Specs for SJIII-3226
Max Platform Height: 312 Inches
Platform Length: 83 Inches
See also:
Prolift Handling Ltd are Ireland`s largest supplier of lifting equipment and lifting accessories, so save time by shopping online with us, for all you lifting and material handling needs
Share this article
Related Posts